Brit Award-winner Paloma Faith delighted the hundreds in the crowd as the Newmarket Nights summer schedule kicked off with a bang.
Performing in the sweltering heat on Friday evening, the Stone Cold Sober hitmaker stopped off in west Suffolk as part of her 23-date tour.
For the 9th year running SGC Security Services provided Security and Crowd Services to Newmarket Racecourse.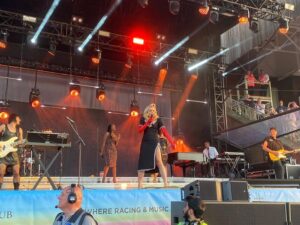 SGC Security Services provides the best in Crowd Control Services for Concerts, Sporting Events, Product Launches, Stadiums, and many other events. We can control and manage crowds of all sizes, day or night, providing advice and guidance to ensure your event complies with all legislations and runs smoothly.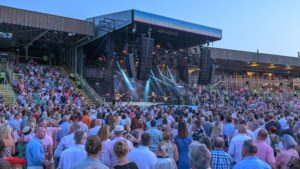 SGC Security Services currently supply solutions to some of the UK's best-known stadiums and events, including Wembley Stadium, Twickenham, Tottenham Hotspur Stadium, Jockey Club Racecourses, Leeds Castle, London 2017 Athletics, West Ham, Watford Football Club, and many more.
We are more than just trained and reliable stewarding and security staff suppliers. We deliver a complete Crowd Safety Solution managed by an experienced and highly Professional Management team.
We have over 50 years of experience in providing bespoke crowd safety services throughout the United Kingdom.
SGC Security Services is a member of the United Kingdom Crowd Management Association (UKCMA), which represents critical commercial organisations whose primary business is providing management and event security services and solutions, meaning that the event management team along with SGC Security Services have been fully audited for their compliance and professional ability in managing crowds at an event.